I have played the Furry Creek Golf And Country Club a number of times and it is always a pleasant experience. The drive up the sea to sky highway on a nice sunny day is spectacular and the venue itself is nicely decorated with immaculate premises.
As you drive into the property, there are plenty of flowers and greenery to nicely accent the clubhouse and facilities. You can actually pull up in the driveway to unload and your vendors can roll their equipment into the venue easily. It is also great for any mobility challenged guests.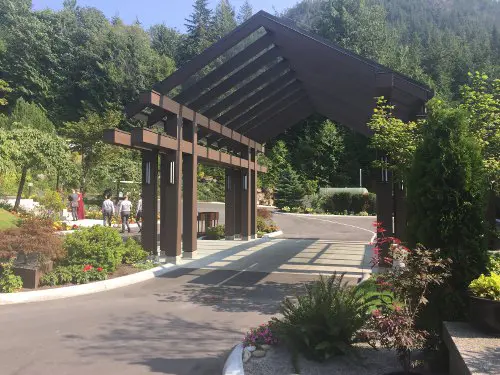 Plenty of free parking is close by and there are actually two tiers with more parking off to the side of the venue. There is ample parking and never any trouble finding a spot.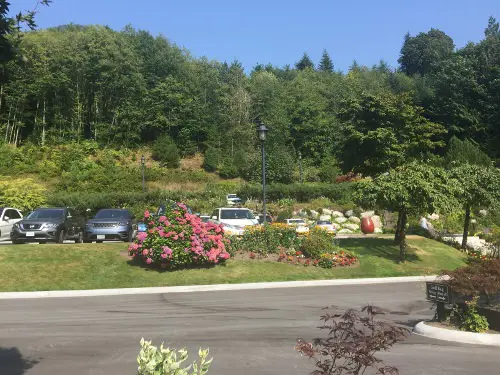 The buffet for most wedding events that, as a DJ, I have provided my services for, have been set up outside the main event room. They have it organized so that guests go out one door to the buffet and then enter with their meal via another door. This works well in the summer when it is warm and sunny. In cooler or unpleasant weather, the buffet is set up in the foyer just outside the main entrance of the event room.
The main room, or ballroom, is not very large. Comfortably it accommodates  60 or 70 guests. You could probably squeeze in a 100 guests, and maybe a few more, but then it would start to get crowded. However, there is a balcony where more tables could be added and on a warm summer day, would make for a fabulous addition.
They do have different configurations in terms of setups and usually, the head tables need to be moved to accommodate dancing later in the evening.
The main room does have a projector and screen for your video presentations or slide shows. They also have an in house wireless microphone and speaker system for your speeches. As in most venues, the ceiling speakers are fine for speeches but are not good enough to play high levels of music and will distort if you try to do that.
The staff are very helpful and friendly and are attentive to both your guests and your vendors.
I might add that I have brought friends from out of town and from overseas to the restaurant at the club while on our way to or from Whistler. A very nice restaurant with a great view and good food. It is wonderful for your guests if you are having an early wedding ceremony and they would like to grab a snack before dinner at the reception later in the day. Through the week, the restaurant can be quiet and tranquil, which is a treasure in the Sea to Sky area.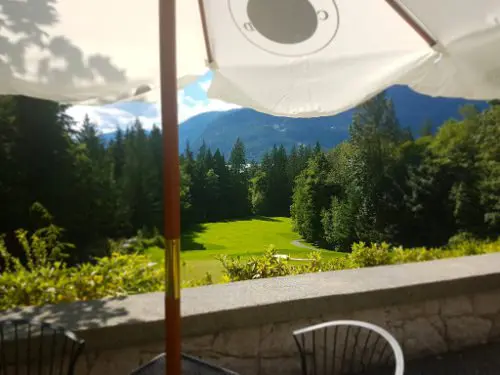 Many DJs in Vancouver are hired to play the Furry Creek Golf And Country Club so do not be deterred of hiring a service out of Vancouver. With the beautiful drive, picturesque grounds and pleasant staff, I give this a 4.8 out of 5 stars. It is another one of my favourite venues to play.
Also, read my Beach Grove Golf Course Review.