Beach Grove Golf Course Review
Beach Grove Golf Course Review
The Beach Groove Golf Course is another lovely venue tucked away off of Twelfth Street in Delta. The venue is small with perhaps a capacity for up to 100 guests and is well maintained.
Parking seems to be fine and is free, as it is at most golf courses on the lower mainland
Load in is nice and easy for your Vancouver DJ. A covered, level load in area makes it very easy for your guests and vendors to roll equipment in on a cart. For any mobility challenged guests there is an elevator to the left of the entrance that is large enough for a wheelchair.
The entrance itself is nicely decorated. Stairs are also available to the second level where events are held but as I mentioned…there is an elevator also.
The second floor has a number of smaller rooms but the main room is next to the lounge. The main room does have a built in full service bar. Washrooms are nearby and easily accessible by all guests.
Off of the main room, there is a lovely patio overlooking the golf course. Here again, the furnishings are nicely appointed and a great place for guests to enjoy the sunshine with their friends, family and spirit of choice. This Vancouver DJ found it to be one of the highlights of the room.
The buffet is set up on the dance floor and is removed for the dancing later in the evening.
The venue does have a wireless microphone and in ceiling speakers for your speeches. The in ceiling speakers would not be suitable for playing dance music dance music but for speeches, they are fine. I did not notice an in ceiling projects or screen for showing any slide shows or presentations. There is air conditioning throughout the building.
Staff and management are quite nice and attentive to guests and vendors.
This DJ in Vancouver was set up in the far right corner of the room beside the dance floor, the space us large enough for a medium sized setup, which is about all you need for this room anyway. There is only one wall plug and only one outlet of that that is available. The other outlet is being used for the lounge next door.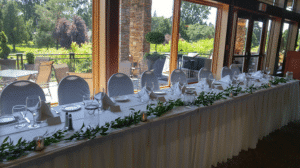 One thing I did notice was that the house music from the lounge next door filtered into the wedding reception while speeches were being held. I don't know if it was possible to turn it down or off but it did not seem so as no one made an effort to do that. There is not an actual wall between the lounge and the event room but a partition. I am not sure, but that partition might be slid into the wall in order to make the room larger.
The Beach Grove Golf Club is a lovely venue with everything, and more, for any event. The venue is highly maintained and easily accessible by all. I give the Beach Grove 4.5 out of 5 stars.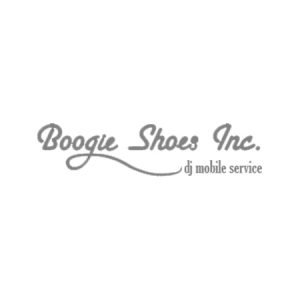 DJ Boogie Shoes
Known for being a fun, crowd sensitive, and knowledgeable disc jockey, DJ Gary entertains crowds as an exciting live performer internationally and as a professional Vancouver event DJ.