Have a Blast Singing With Your Guests!
Get ready to have the time of your life with your very own KJ (Karaoke Jockey) hosted Karaoke party. We leave nothing to chance and give you our absolute best.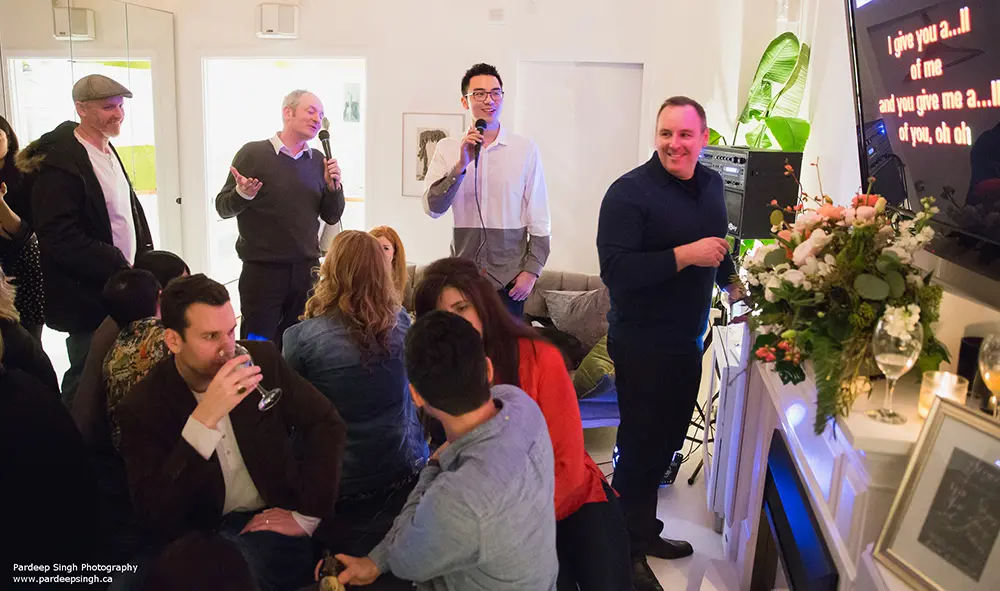 #1 Karaoke DJ Service In Greater Vancouver
Professional Karaoke Hosting
Themed & Fantasy Karaoke Events
Largest Playlist in the Lower Mainland!
Bring Karaoke To Your Event
For extra spice and a very memorable experience, you can create a theme. The possibilities are only limited by your imagination. Here are some ideas for when you, your friends or clients grab the microphone!
 A masquerade event where guests dress as their favourite star and karaoke the night away with prizes and contests for the best act.
Have a sing for your supper fundraiser
Another popular theme is a "sweet 16" karaoke birthday party
Country fans can break out the giant belt buckles, cowboy boots and hat and sing their favorites – classics to new country
Classic Rockers with tight jeans, white T-shirts and black leather jackets can belt out the classics of the 60's or the 70's ,80s, 90s
Your own great theme idea!
Regardless of whether you go with one theme or want to completely mix it up with music from every category and time period, our massive collection of songs will meet your needs.
Why Our Karaoke Is The Best!
With over 250,000 Karaoke songs (that's over 1/4 million!) plus multicultural selections available, we can supply many of your contemporary song requests. Every guest will dig your singing event. For business events or private parties, our karaoke DJ service has got the music that will be sure to have your karaoke crowd warbling up the tunes.
For the crowd that, ahem is not quite in tune or shy, we can supply semi-pro singers that will knock your socks off and ramp up your function a few notches… just in case that third rendition of "Born To Be Wild" happens to curdle your beer.
Get ready to have the time of your life with DJ Boogie Shoes Karaoke!
Call me today to chat about setting up your next Karaoke Fantasy Event. Our calendar fills up well in advance so don't delay.
Book DJ Boogie Shoes Karaoke!

(604) 816-7727
Book DJ Boogie Shoes As Your Karaoke Host!
Get started planning a karaoke event your guests are sure to remember!
Want to host the karaoke party yourself with a karaoke machine rental? Click Here.
Or Use This Contact Form Instead