Rent Our Karaoke Equipment
Looking to host a karaoke event, but need the goods?
We've got you covered with the very same equipment we use for our own events.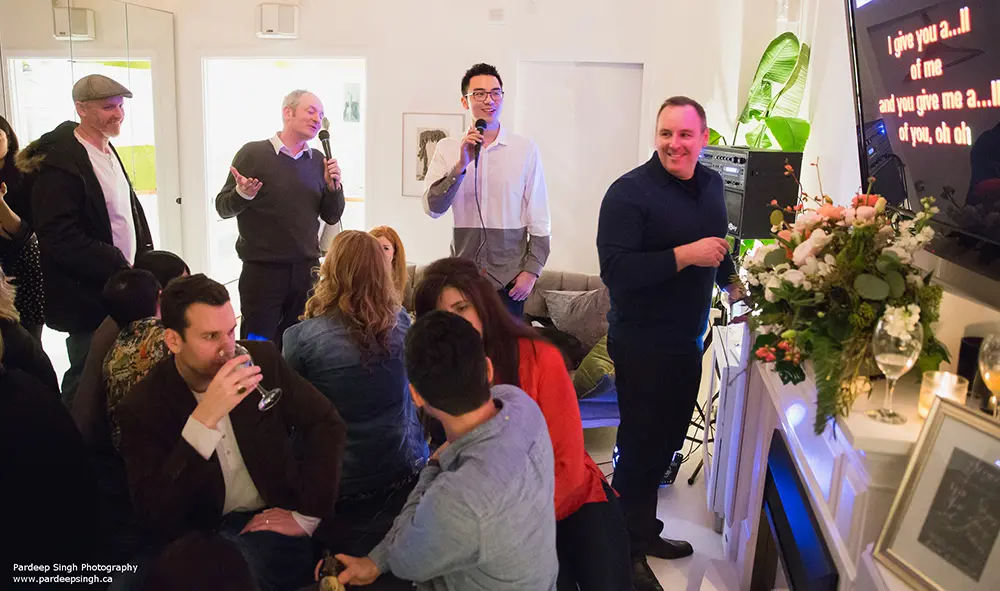 Bring professional karaoke to your event!
Pro-grade karaoke machines
Speakers, TVs, projectors & more!
We also provide Interactive Hosted Karaoke Services with over 250,000 Karaoke Songs plus multicultural selections!
Karaoke machine with Built-In Speaker. No need to fool around hooking up your own speaker quick and easy with this machine!
Over 2,300 English karaoke songs. From Classics to Brand New Music on the music charts! We provide the newest Karaoke hits
Either take off the downloadable karaoke song list or there needs to be a way to allow me to upload new lists as they change every month or so
Free Latin Karaoke upon request.. which is another 300 songs. That totals over 2,500 Songs all together.
Requests can be added to your song list (if 2 weeks notice given) and if songs are available. We don't fill up your song list with junk songs. Only songs that you want to sing!
Unit easily plugs directly into your TV to see lyrics
Karaoke machine has a built-in adjustable digital delay for vocal effects
7 Band Equalizer
Separate bass and treble controls
Built-in Key changing
Two wired microphones with Separate volume controls for mics and music
Comes with pre-mixed dance CDs for you and your guests to enjoy
Can plug unit into a larger speaker or PA system
Can be used as a mini PA system Will accept your iPods or other audio equipment with the proper cables
Searchable song list! ( See FAQ #10 )
How To Hook Up Your Karaoke Machine
View our video on how to hook up your Karaoke machine rental to your TV.

Request the Latin karaoke library free of charge! Now With Over 2,500 Songs!

Top 10 Karaoke Rental FAQs
Is it easy to set up and use?
Yes. Just plug the RCA cable from the machine into the RCA jack on your TV to see the lyrics, plug in your 2 microphones and you are ready to go.
Is it Fun?
See for yourself! Click on the thumbnails above to view a karaoke party at Christmas dinner. It certainly changed a somewhat predictable Christmas get together into something to talk about over the rest of the year.
How long is the rental?
Rentals are generally from 12 noon pick up and noon drop off the next day. (Other pickup and drop off times may be available)
Do you have new karaoke songs?
Yes. There are currently over 2,100 songs included in the rental with a wide variety of genres from the classics to the new hit songs. Updates are added every month, or more, to assure you of a current variety of songs to choose from. Latin karaoke songs are available upon request. I don't fill up my song list with junk songs. Only songs that you want to sing are there and if you give me a couple of weeks notice I will add your requests if they are available.
Can you deliver and pick up the karaoke machine?
Delivery and pickup is available between 10 AM & 4 PM. Please call to arrange drop off and/or pickup as available times may vary. Late-night pickups are subject to an extra charge if it is available. Extra charge for delivery and/or pickup applies. Charges depend upon location of drop off and/ or pickup. Set up is an extra charge and is not included in the delivery.
Do I need a speaker?
No. The speaker is built-in. If you wish, you can hook the karaoke machine to an extension speaker of your choice or PA system with an XLR cable. Extension speakers are available for rent.
I don't have a TV, do you rent them?
Yes, I have 19 lyric monitors available for rent.
Will the rental machine work with a projector?
Yes, the karaoke machine will work with a projector. Older projectors may require an RCA to VGA adapter that is available for rent.
Can I plug my ipod or i phone into the karaoke machine?
No problem! There are 1/4 inch and RCA inputs on the machine so that with the right adapter, you can plug in those devices.
Is the song list searchable?
Yes, it is. If you download the song list on my website to your tablet or phone and have Adobe Reader on them, you can search the song list by typing in a song or artist name. Depending upon your OS, the search option may automatically come up in which case you just type in the song or artist or you may have to:
Open the PDF file.
Click Edit > Find.
Enter the search string on the Find Field.
Click Next or Previous depending where you would like to search in relation to where you are currently at on the document.
Reserve Your Karaoke Rental

We Deliver Rentals to Vancouver & Surrounding Areas
(Delivering our Karaoke rentals over long distances may include travel fees)