Top Entertainment Ideas For Your Event!
Well, here we are again, another beautiful summer slipping away and if you are on the west coast of Canada…into the moody weather of fall. With that, attention is starting to focus on the seasonal parties that will soon be taking place. Halloween and Christmas are the biggest ones but there are lots of birthdays, anniversaries, bar mitzvahs, corporate and various celebrations happening as the colder weather approaches. For organizers, party-goers, venue owners or individuals looking to throw a party, event ideas are sometimes hard to come by. However, if you are looking for a few unique ways to spice up your party, here are a few good ones. In some cases, you will have to be willing to make an effort, if you don't want to pay others to do it for you, but the effort will be well worth it for a fun, unique party that will have attendees talking for days and weeks to come.
You have all heard of karaoke, but have you ever thought of combining karaoke with a professional singer? All right, most of us can't afford a major star singer but there are quite a number of very good pro and semi-pro singers right here in Vancouver that can knock your sox off. From having the singers perform a 40 minute set outright or having a more interactive element where they perform duets with your guests, it will be more cost-effective than hiring a full band plus this can be incorporated with your DJ /KJ (karaoke jockey). For a more focused function like a religious event, perhaps a Christian karaoke and/or singer night would be applicable.  A younger crowd might appreciate a beatboxer. Any event incorporating this idea will be much more entertaining and easier on the ears.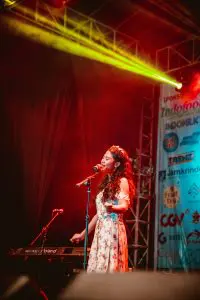 Every summer, as Mr. DJ Vancouver, I see a number of street performers that are unique fun entertainers. Depending upon your guest's taste in entertainment, you can go for the bizarre sword swallowers, fire performers, martial arts tricking, jugglers, balancing acts, amazing musicians and others. So think street performers as another option to bring the wow factor to your party.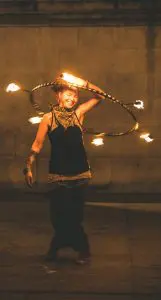 How about dancers? Many younger and, even older, guests love to see a good breakdance team. Vancouver has a wide genre of dancers. From ballroom to country line dancers and everything in between, you can find a dancer, or dancers, to fit your group's dynamic.  An aside for the dancers idea is to have them teach a dance and then have everyone try it later in the evening. This is a great way to get the dancing started at any event or for giving away some of those Christmas prizes.
Another interesting and fun idea for your party is to combine live instruments with your DJ. You can do that with just about any instrument as long as it is electrified, but a tenor sax really seems to work really well. While the DJ is spinning instrumental versions of popular dance hits or even some EDM, the sax player can be out there on the floor jamming along among the dancers. You might even get the audience involved by having some blow-up instruments so that they are lip-synching along but with fake instruments. Turn this into a fun twist and give away some more of those Christmas prizes to the guest that is the most enthusiastic about their fake instrument.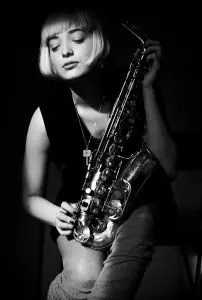 There are so many things you can do at your parties to spice them up and be unique. Here are links to more ideas here. "Awesome tips for your holiday party" (This one works for any party not just Christmas. Some great links to Games )
Being a Vancouver DJ, I have seen a lot of parties and I know all it takes is a willingness on your part to want to make your party stand out, and possibly some elbow grease to put the ideas into action. For more ideas, contact me from my website, at 604 816 7727 or gary@djboogieshoes.com Happy Partying!