Venue Review – Floata Seafood Restaurant
The Floata Seafood Restaurant is a Chinese restaurant that hosts a lot of different events. Anything from parties, fund raising  to weddings events as well as operating as a regular Chinese restaurant. It is a large venue and can easily hold 300 guests and maxing out at about 500. The room can be partitioned for smaller groups as well.
Located on the fourth floor of one of the older buildings in Chinatown, the Floata is a bit difficult to find. There are signs going up each level in the parkade but  they are a little bit confusing. You may find yourself a little lost so I would recommend your guests travelling down a day earlier to scope the location out. That way, when you arrive on the day of your event, you will know where you are going…or you could make a detailed map for them.
The parking entrance to the venue is nothing special but the entrance once you are inside is actually quite nice. The venue will also cancel your vendor's and guest's parking ticket if you ask.
As mentioned, the venue is quite large with the bar area on your right and at the opposite end, the large dance floor and stage. The venue is also air conditioned.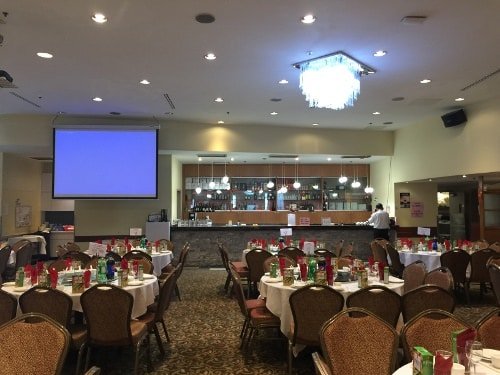 When to room is opened up to full capacity, there are two stages. This is quite convenient as you can have your speeches on the stage that is located halfway down the room and you entertainment on the stage by the dance floor. Both stages are quite large.
Staff are attentive. As is the Asian custom, staff are not overly friendly but if you chat with them, they generally warm up to you. I am finding as the Chinese restaurants get used to hosting multicultural events, the staff are becoming more accustomed to interacting with many different types of people. As a Vancouver DJ, I go in to each venue being respectful and polite and I have no problem whatsoever. I even sometimes joke with the staff and it is surprising what a little laughter will do to make friendships. 
At each end of the room there is a projector and screen for showing your slide show or video presentations. The screen at the stage by the dance floor has a nice speaker, JBL, for the audio of your video. I would check on the inputs available for your video.
I didn't use the system but it looked as if the only inputs available were and RCA input panel on the wall. I didn't see any VGA or HDMI inputs. HDMI being the standard now days.
Although there is a mixing board and speakers around the whole room, the speakers are of not good quality. They are ok for speeches but are rather "tinny" sounding with no low end. I used them as a supplement  to my professional speakers on stage for speeches but the house system is inadequate to play your dance  music.
The dance floor is large and accommodating. At 300 guests, there is ample room for your dance and you can use it to highlight extra entertainment  and it works well or if you have a dance group wanting to do a performance. 
With an ample bar,  good food  and a flexible seating and dancing space The Floata Seafood Restaurant is a nice venue for any type of event large or small.  As often happens at Chinese venues, there is a push to get guests out by a certain time. In this case it was 12 midnight. So, staff are clearing away tables and chairs. Rolling them around the dance floor area and putting things away as guests leave throughout the later part of the evening. As a DJ in Vancouver this dampens the party mood somewhat.  However, if you are fine with that, I would rate the venue as a 4 out of 5 stars.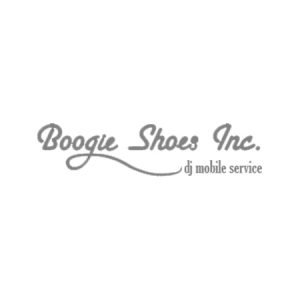 DJ Boogie Shoes
Known for being a fun, crowd sensitive, and knowledgeable disc jockey, DJ Gary entertains crowds as an exciting live performer internationally and as a professional Vancouver event DJ.