Venue Review Horizons Restaurant
Horizons Restaurant on Burnaby Mountain is a nice venue that will accommodate up to 180 guests.  Being situated on the mountain, it can provide wonderful views while at the same time hosting your event in a modern, open decor setting.
Although it was a rainy, misty day when I was there, the bright cheerful setting was uplifting. There was lots of space with a fully stocked bar. Seating could be arranged in booths or movable tables to customize seating. There was an area that could be used for a nice dance floor as you came into the venue.
The entranceway is quite roomy but I would imagine it could get quite crowded with a full complement of 180 guests. They do not have a built-in projection system to play your video presentation or slide show and no house microphone for your speeches. This would be something you would need to ask your music service to provide.
There are large windows all around and as you can see, on a sunny summer day, the views can be spectacular.  Whether it be lovely sunsets or the lights of the city below, this venue can provide all of that.
Getting into the venue has its' good and bad points. You can get close to the restaurant with your vehicle to bring in supplies or for your vendors to load in equipment and décor accessories. There is a ramp to the right side of the main entrance and an elevator is available. However, the area from which convenient access to these two options is a bit tight if you have a larger vehicle. Having two, or more, vehicles trying to get into that small parking area could be a bit challenging.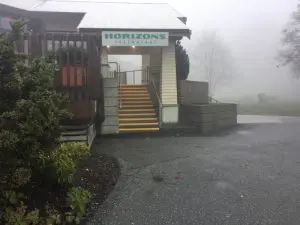 The parking lot is large and seems that it would accommodate a large number of vehicles but here again, in the summertime, it might be a popular spot for the locals as well. The walk up to the restaurant is a bit long and steep as well, so any mobility challenged guests would want to take advantage of the ramp and elevator nearer to the restaurant. I found it necessary to have an umbrella on the rainy days as you will definitely get wet on the walk from the parking lot to the restaurant. (For another Burnaby venue, check out The Bonsor Community Center venue review)
There are some nice pathways around the restaurant for your guests to stroll if your event includes a wedding ceremony earlier in the day and the guests need to occupy some time while the married couple got back to the reception later.  I would imagine there would be some nice spots for photo opportunities as well.
Horizons is in a nice location to host just about any medium to the larger sized event. The views are second to none on a nice day and the staff is friendly, professional and eager to help. The venue has everything you need for an enjoyable function including interesting grounds for your guests to explore.  My only concern would be that if the weather is not good on the day of your event, much of the charm of the beautiful view would be lost.
I give the Horizons venue a 4 out of 5 stars.
Want to keep reading? Take a look at my review of a nearby Burnaby hotel: Hilton Metrotown Venue Review.