Venue Review Hilton Vancouver Metrotown
Venue Review Hilton Vancouver Metrotown
The Hilton Vancouver Metrotown is, as the name says, is across the street from the Metrotown shopping center. It Interestingly, has an Asian mall area right off the hotel itself providing for a lot of shops for your guests to explore…especially if they are from out of town.
Pulling into the drive way of the Hilton, there is not a lot of room to maneuver. They do have valet service so this helps but there is little overhead cover from the weather. The entrance doors are close though so this probably would not be an issue for most guests. However, if you have mobility challenged guests, you might be exposed to the elements while trying to get a wheel chair, etc out of your vehicle. The other option would be to park in the underground parking lot and have guests take the elevator up to the lobby from there. The Hilton is also very good about providing parking passes for you vendors and guests
Once inside the hotel, all access is mobility challenged friendly with elevators or ramps. The lobby is spacious and tastefully decorated.
The rooms where the events are held are off of the mall adjacent to the hotel. They often have the doors locked so if you, or your vendors, are arriving early to set up, you may have knock loudly on the glass doors or go back down the front desk to have someone come up and unlock the doors. I always carry the front desk phone number with me so I can call them if need be.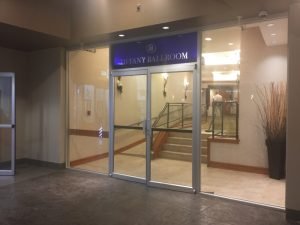 The Tiffany Ballroom is where events are held and event room area has a ramp, as well as stairs to it.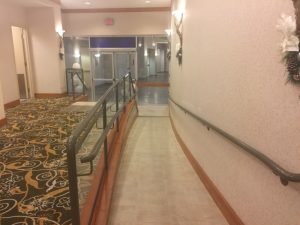 There is a small room close to the entrance where a wedding ceremony can be held. The room is small and a little crowded at 60 guests. if your vendor is providing music for the wedding ceremony, a very small PA would only be required. This Vancouver DJ used a battery powered PA with blue tooth wireless microphone and wireless Ipad connections. You can rent this system yourself. Check this link DJ hire.
The main room next to the ceremony room is not really that large and would work well for a medium sized wedding of 130 guests, I would estimate. As always, It is best to contact the hotel for exact numbers on the amount of people a room can hold.
The Tiffany Ballroom is adequate and has everything for your event, including a bar, dance floor and buffet facilities. There were about 70 guests at the event and there was plenty of room so a larger could be accommodated. There is no PA for your speeches or screen for any video or slide show presentations, so you might require those service from your  music vendor .
I found the staff friendly and attentive. They looked after the guests and this DJ in Vancouver very well.
The Hilton Vancouver Metrotown is a nicely appointed venue to host your wedding or event. With the location being close to Metrotown and an attached mall to the hotel, there is lots to do for your guests should they come early to your event or if there is a break between your wedding ceremony and wedding reception.
However, small driveway to the entrance and lack of cover form the weather could make it difficult for the guests entering. But other than the venue is perfectly fine for hosting a small to medium sized event. I give The Hilton Metrotown 4 out of 5 stars.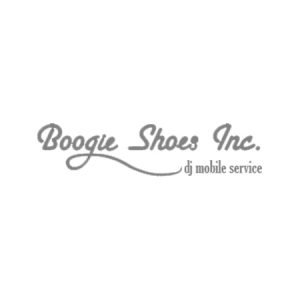 DJ Boogie Shoes
Known for being a fun, crowd sensitive, and knowledgeable disc jockey, DJ Gary entertains crowds as an exciting live performer internationally and as a professional Vancouver event DJ.