The 10 Stages of DJ preparation and work for your event that everyone should know.
The 10 Stages of DJ preparation and work for your event that everyone should know.
Most people's first time experience with hiring and working with a DJ or KJ, karaoke DJ, is either for a wedding or some kind of celebration like a Christmas or other type of party. Quite often those searching for a DJ and/ or KJ will mention that they are unsure how the process works. What does a DJ/ KJ actually do? Do they just show up, party and go home? I wish it were that easy but it is not. So, I have put the procedure into an easy 10 step progression of how the initial contact with your DJ /KJ  right up to the loading out at the end of the night of your event moves along. Read on and I think you will find it interesting.
As you probably know, initial contact often starts with and email or phone call to a music service that seems promising to a couple, individual or company looking for entertainment. I often suggest an email contact first as it allows you to be relatively anonymous. You can remain in control and an email also has the advantage of allowing you to put all the details in writing so the music service can have time to research and come up with details and a quote in writing. Sending out a concise and informative information package to each and every enquiry is step one.
After sifting through and choosing a possible DJ /KJ, either a phone call or meeting is arranged with the possible client. At this stage, asking questions and going over a checklist of your event to put your vision of your function, is a great way to get a feel for the personality and organizational skills of the music service and for the DJ to get a sense of the possible client. A contract can be signed at this time or you may want to think about it. Whatever you do, always get a contract for the reasons I put forward in an earlier blog here. Vancouver DJ contracts and their importance.
In any case the DJ and /or DJ should come prepared with a presentation that can answer all of your questions as well as contract.
Ok, so now that you have hired your music service, you will want to start preparing your song list with the organizer check list that your DJ has provided. Your music services company normally has a very large variety of music collected over years of events and weddings and preparing for them as well as always acquiring new music.  For any function though, organization is the key to having a smooth and trouble free event in terms of your music services provider. If your music and music instructions are written down, it puts everyone on the same page. You can also take a look at some of my other blogs on ideas for choosing your music. This is where your DJ puts your music and requirements together using a checklist that the DJ has prepared  for your type of event.
Now that much the organizational aspects of your event are out of the way, the big day arrives. Your Vancouver DJ and / or/ KJ should arrive early enough to load in and have everything set up and ready to go by the contract start time.
Travelling to the venue does take time. The DJ service must allow for travel time. Also, important is a newer model and reliable vehicle to get themselves and their equipment to where they need to be. Sometimes people are looking for the best deal in a DJ. I always remind them that it is no deal for you if the DJ does not arrive because they run their business so near, or below, the line of profitability that they can't afford a reliable car and it broke down on the way to your function.
There are things that can hold up getting into the venue up, that is why I am so big on organization. I always check ahead to see if there will be any special instructions that may delay a vendor form getting into the venue. For some venues you actually have to load up on a dock, call someone to come get you , pull everything up to the room then come back down and find parking. It can take up to 40 minutes to get into some places. This DJ in Vancouver actually has a data base of venues and with the all the details needed for a timely load in and set up.
I It is important for the DJ to meet the manager of the venue or captain of the room and get acquainted with them. Things go smoother and much more pleasantly when starting off on the right foot. It can set the mood for the whole evening right from there.
I also sometimes find staff are not sure where to have the DJ set up so it is always good to be clear with instructions to your venue as well so that set up goes quickly and smoothly. Moving a setup to another spot often entails at least a partial tearing down and then setup again. This definitely can delay the music service starting on time so best to get it right the first time. The DJ striking up a positive rapport with staff always helps with  solving challenges.
After setting up the DJ and or KJ should often have a quick chat with the MC to be sure they both know what is going to happen and remind the MC to give the DJ heads up as to when the entrance, cake cutting, first dance are about to happen so that the DJ can cue up the music. Springing it on the DJ at the last moment is not recommended.
Doing the event is of course where the action happens. This can look so easy to guests and even clients when the DJ hits their cues and has the dance floor hopping, but it is the preparation that gets the DJ to this point. Managing guest's request as well as those of the client is a big part of this portion of the evening as well. A pleasant, approachable DJ / KJ is going to be a lot more fun than one who has their nose in the DJ equipment all evening.
At the end of a successful evening, the break down and load out can actually be the most exhausting part of the evening for your DJ. Keep in mind that the DJ has arrived an hour to two hours before your event. So including that plus the set up, take down, load out and drive back to their home location, your DJ has actually worked an additional 3 hours, at the very least, on the day of your event. If you have a 7 hour event, your music service has probably worked at least 10 hours on it…not including music preparation time.
As you can see, there is a lot that goes into the preparation and the activities of the DJ working your event. I hope this simplified ten step process give you an idea of what goes on in the music services world to create a successful event and or wedding. Although it is indeed a lot of work, this Vancouver DJ wants you to know that he enjoys every part of it.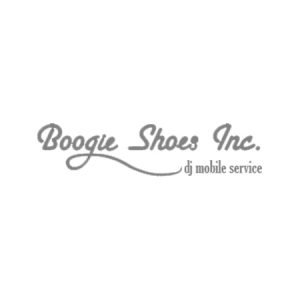 DJ Boogie Shoes
Known for being a fun, crowd sensitive, and knowledgeable disc jockey, DJ Gary entertains crowds as an exciting live performer internationally and as a professional Vancouver event DJ.