The Washington Grill Restaurant is in the upper part of an old character building very close to the beach in White Rock. It is a smaller bar/restaurant venue and works well for a smaller group of say 30 to 50 guests. They have a great view of the beach that adds a great ambiance in the evening.
Parking is ample and in addition to the front parking, there is parking on the side.
The very first thing I noticed was the stairs, and lots of them,. As any of you who read my venue reviews know, stairs with no elevator are not very kind to your vendors. as a DJ, I know carrying equipment upstairs will most certainly add to the cost of your entertainment because of the extra work loading in and out. For those guests who have mobility issues, this would be a difficult venue for them to get into.   
However, the entrance was interesting with a kind of vintage look that is popular at some venues in Victoria. For the event I was DJ / KJing, they added some balloons and a more modern style table. I don't believe this is normally part of the downstairs decor.
Some of the staff were helpful. Even going so far as to give me a hand loading equipment up the stairs. It was not consistent though but that could have been because I was only a vendor. I did loadout by myself.
There are a few sections to the venue and in the area that I was, there was no air conditioning. It was quite hot being upstairs so I would recommend bringing fans or checking with the management to see what could be done to keep your guests cool if your event takes place during the summer months.
The back part of the venue has more light due to the larger windows and the curtains draped from the ceiling give it an airy look. the back does look newer than the front area and perhaps that was an add on.
The front section of the venue is darker and is where the bar is located. This section is where they normally put the entertainment. It is quite small and there is only a small stage on which to place equipment. The venue is much more suited to my budget DJ setup than a larger one, which is what we used here.
There is not much room for dancing so if this is an important part of your event, you would have to clear some tables. One of the things that were of notice to me was that they did have the side part of the restaurant open to the public so all the while the party was taking place, the general public was walking through the event to get to that area of the restaurant. It reminded me of the Floata Seafood Restaurant.
They have their own small PA so that might be utilized so that entertainment would not have to bring them. I didn't use it so I don't know how it sounds but it quite possibly would work well for a dance music application. As a DJ, I have played a number of venues with their own house system and have more than once, had the experience of having the house system breakdown or not be adequate for louder dance music. Consequently, I always bring my own system. With my systems, I know they work well for the application that is has been contracted for. This policy has saved a few weddings and events form a complete disaster. If you view your event as important, highly recommend never expecting the entertainment can plug into the house system flawlessly. You may get your DJ cheaper but you may end up paying for it with a troubled function with a flawed, or even worse, no sound system. This can really put a damper on things.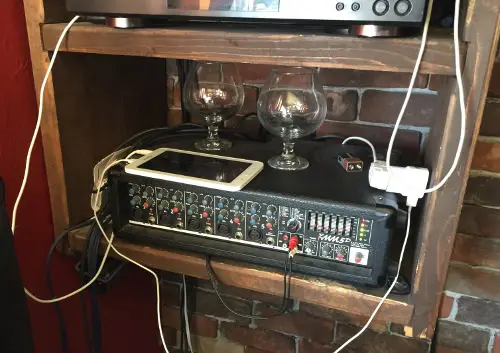 They do have some TVs that are hooked into a smaller speaker and video player do that you can show your slide show or video presentation.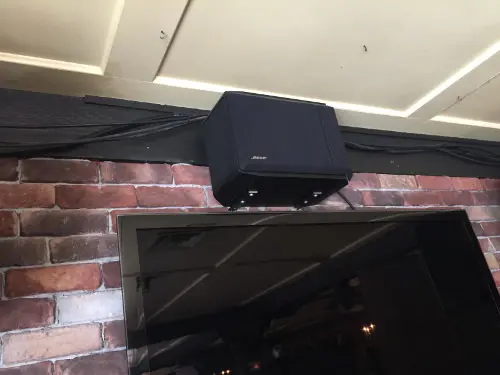 I found The Washington Grill Restaurant to be an adequate venue. They do have everything you need for a basic function. They also have live music there throughout the week and it will work well for a small group. But because of the long staircase, no elevator, lack of cooling in the summer and the fact the general public was walking through the event, I would have to give this venue a 3.5 out of 5 stars.
Also, check out my review of the Horizons Restaurant.