The Seymour Golf And Country Club is a smaller venue and is a nice spot for a medium-sized event. The venue does decorate attractively and with some nice amenities, it has everything needed for a fun celebration.
The venue is right off Mt Seymour Pkwy in North Vancouver and you can actually drive right by it if you are not careful. When I was there last, construction in the parking lot was taking place but there still was plenty of free parking. This is one of the great perks of the venue plus the parking lot is right out front of the club with a short walk to the entrance which is presentable but plain.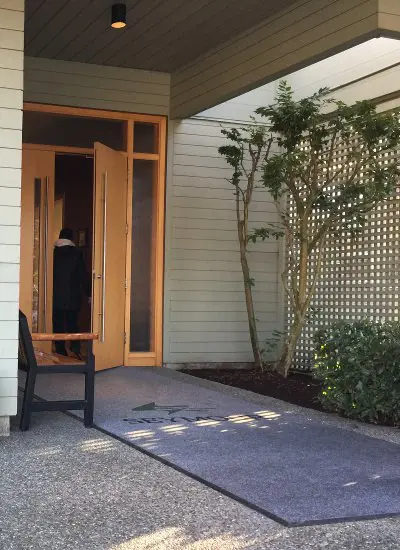 One of the things I like about the club is that you can pull right up to the entrance to load in and out. This very convenient not only for your vendors but for you and your guests also and if you need to bring things such as decorations in and out. There is a ramp as well for easy roll in with a cart or if you have a guest that uses a wheelchair.
Once inside the front door, a tastefully decorated hallway goes straight down to the main room. The hallway is a little narrow and the bathrooms are to the left of the entrance to the main room. The entrance to the main room and those heading to the bathroom can get a bit congested, especially if you have a lot of guests. There is only one entrance from the hallway to the main room.
At this wedding, they had placed a nice backdrop in the hall by the entrance to the main room so that guests could take their pictures as they signed the guest book. As a DJ, I thought this was a nice touch.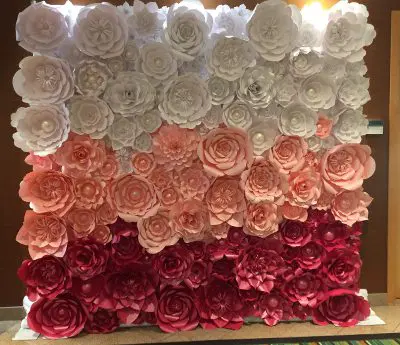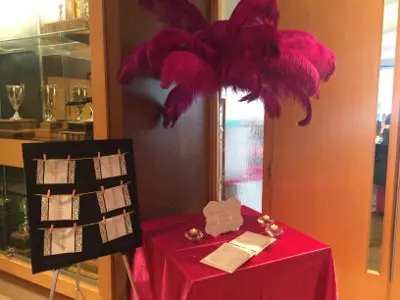 The main room itself is nice and it features a fireplace and dance floor. In this picture, the room looks smaller than it actually is, but there was a comfortable room for 70 guests at this wedding reception. You might notice that they do have a ceiling speaker system for your speeches. I would not recommend them for playing dance music though as they are rather small.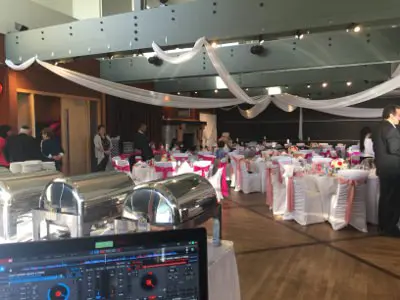 Another great feature is the balcony overlooking the golf course. Plenty of green lawn and a great area for guests to hang out on a sunny day. The wedding planner had a few ladies dress up while serving champagne.
And the candy lady.
Despite the one entrance to the main room from the hallway, I feel The Seymour Golf And Country Club is an attractive venue for a middle of the road event. Not posh, but very comfortable with friendly staff and management, plenty of greenery and everything you really need to have a combination of relaxing, pleasurable early evening festivities with room for your dancing, karaoke or live entertainment later on. I give this room 4.5 stars.
Check out my venue review of: The Furry Creek Golf & Country Club