Cecil Green Park House is on the Northwest cliffs of the U.B.C. campus and boasts wonderful views of the Howe Sound.  It is a mansion-style home commissioned in 1912 and has the charm of that era but with some modern amenities. 
Pulling into Cecil Green you will notice that parking is above the house. Usually, there is just enough parking and it is getting expensive now. Around $20 for 8 hours. You must be a little cautious because they don't allow you to pay with cash or credit card past 12 midnight. You might think, just as I did, parking is free from midnight because of this but that is not the case. They can, and may, still ticket you after midnight if you don't pay.  UBC is aggressive in handing out parking tickets. Since there are no signs telling you that you must pay after midnight, I do find this a little shady so be aware. Best to get the app, Honk Mobile, and pay that way. You can then add time as you need it after midnight.
The entrance to Cecil Green is very convenient. It is covered so that guests don't get wet when rain occurs and there is a ramp for wheelchair-bound guests and for your vendors to load the equipment into the venue. They are getting a bit fussy about loading out at night though. They had a security guard put up a barrier so that I could not pull directly into the entrance to load-out equipment. I am not quite sure what the reasoning was behind this. It just makes getting things out of the venue and into your vehicle a little more difficult.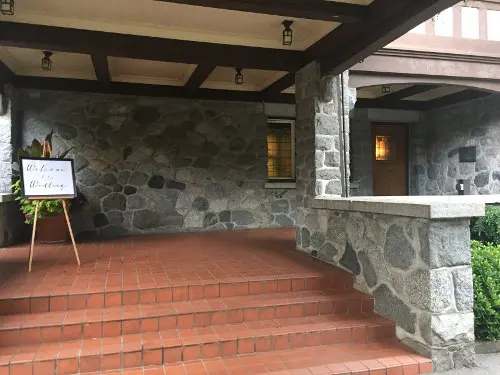 Once inside, there are two rooms. The one on the right is where they sometimes put the entertainment and the one on the left is where the dinner takes place. This is one of the challenges with the Cecil Green venue, entertainment in one room and dinner in the other… separated by a hallway.
 One of the best options is to put your entertainment in the hallway that separates the two rooms just as we did here. Most DJs would also prefer this option as it helps them feel part of the event throughout the evening rather than being stuck in the other room where no one sees them until the dancing starts. Still, keep in mind that the music from the hallway will not penetrate into the dining room for dinner music. At this venue, you can bring an iPod to plug into their in house system that they use for speeches and use that for your dinner background music. As an alternative, usually any DJ in Vancouver can hook up a wired or wireless speaker so they can play your dinner music.
Staff are very helpful and friendly and the event planner is quite pleasant and easy to work with. All of the Cecil Green staff will do their utmost to help you have a trouble-free event and answer your questions. If they don't know an answer to a question, I found they went the extra mile to find out.   
One thing to mention is that there is no air conditioning at the venue. If it is a hot summer day, it will get very warm within the venue. On those days for myself, I bring a tabletop fan which really helps keep me cool and lot more comfortable. You might want to think about this for your guests if the day of your event is predicted to have hot weather.
The outdoor patio is very nice to have at this venue. From here you can get a nice overall view of the grounds and of Howe sound. The whole back area of the venue is a very nice location for your wedding ceremony and most often, clients take advantage of this great resource.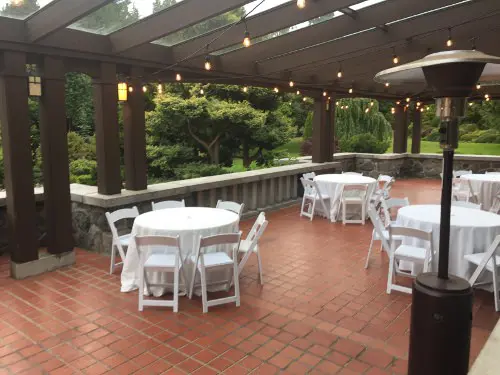 Cecil Green Park House is a very nice venue for any event and is particularly suited to a wedding event. Charming, nostalgic and with a great touch of history. As a Vancouver DJ, this is one of my favourite venues to DJ. I rate this venue a 4.8 out of 5 stars.  
You should also check out a similar venue I performed at, Barclay Manor!