Right in the heart of Richmond, there is a very nice venue called the Quilchena Golf and Country Club that is a great venue offering for your event.  You enter Quilchena through a well-kept row of townhouses adjacent to the golf course. As a matter of fact, unless you know it is there, you could very well drive right by.
As you drive up to the clubhouse you can't help but notice, directly in front of you, the nice area where a wedding ceremony will often take place. One of the drawbacks of this section of the building is that there is
no ramp for wheelchair-bound guests
.
However, in the main entrance and down the hall there is an elevator, to the right, that takes you to the second floor. From there a mobility-challenged guest could be brought out to the balcony which overlooks the wedding ceremony area.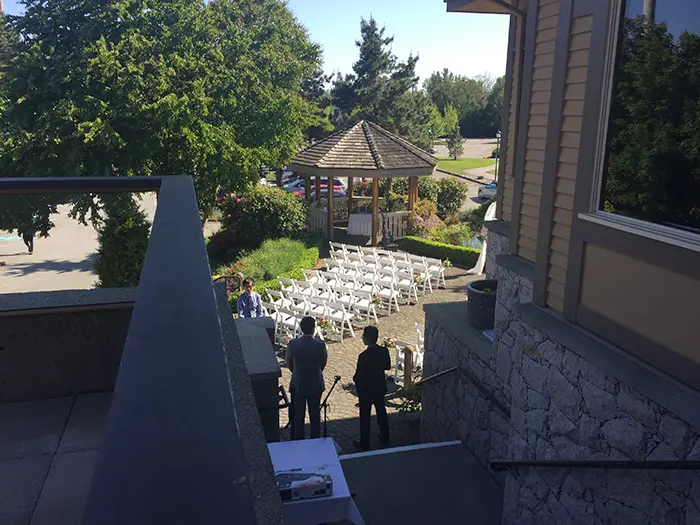 As an option, mobile guests can take the stairs to the second floor. It has a lively skylight and chandelier and many guests find this area a lovely photo setting. The natural light and curvature of the staircase add an interesting feature to your photos.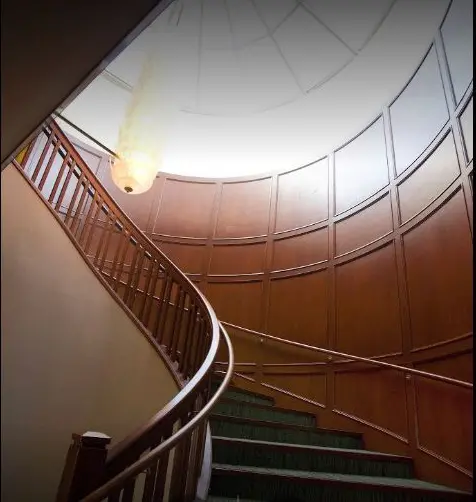 Once on the second floor, there is the main ballroom where many of the events are held. It is bright and airy with a nice balcony for guests to enjoy. It should hold about 110 guests or so. A buffet can be set up outside the main entrance to the room. The ambience, in a way, made me think of the Austria Club.
With a buffet being set up outside the room, there is a nice large area for your dancing and different configurations are available in the placement of chairs and the dance floor. Plenty of room for your first dance and party festivities.  
With its' well-kept grounds and nice clubhouse,  Quilchena Golf and Country Club has that country charm just minutes from the center of Richmond. Well-manicured lawns and green surroundings make you feel you could well be in the countryside. This always a plus when hosting a relaxed fun wedding or event.
I rate Quilchena Golf and Country Club a 4.5 with my only concern being the small challenge of getting a wheelchair to the wedding ceremony area.
Also, read my review on The Country Meadows Golf Club. and The Northview Golf and Country Club.