Country Meadows Golf Course is an older venue. Driving along number six road, you have to watch carefully or you may miss the sign to the entrance of the golf course. There is a golf driving range about 2 km before Country Meadows Golf Club which you will want to pass. It is a common mistake to drive into the golf driving range thinking this is the Country Meadows Golf Club.
Country Meadows is a small golf club so the main building is not very large. The club house includes a restaurant and lounge area. There is a stage in the lounge area and this would work as the venue to hold your holiday parties or other events.
The parking lot is a bit small and on those nice summer days when it is busy, there may be a bit of a challenge to find parking. This could be especially true if you are having a larger event there in the summertime.
Many events are held in the tent that is off to the side of the main building. It is fairly spacious and looks like it could hold about 150 guests.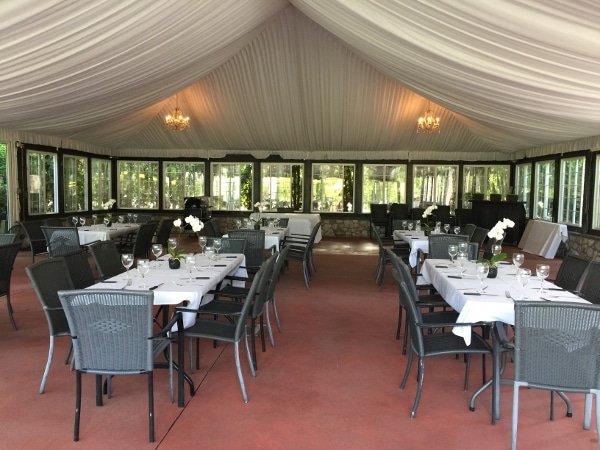 Load into the tent for your vendors is quite easy, with a slightly graded incline. The access to the tent is perfect for any of your wheelchair bound guests and very convenient for your entertainment to load their equipment in.
Power access is a bit strange. The power outlets are high up on the wall and you may need to ask staff to put a power bar on the floor if you need to access power. Your DJ or band, or any other vendor that requires power, will definitely need to bring extension cords.
The scenery around the golf course is nice and green, which is a common sight around golf courses in the summer. In nice sunny weather, the buffet is set up outside of the tent.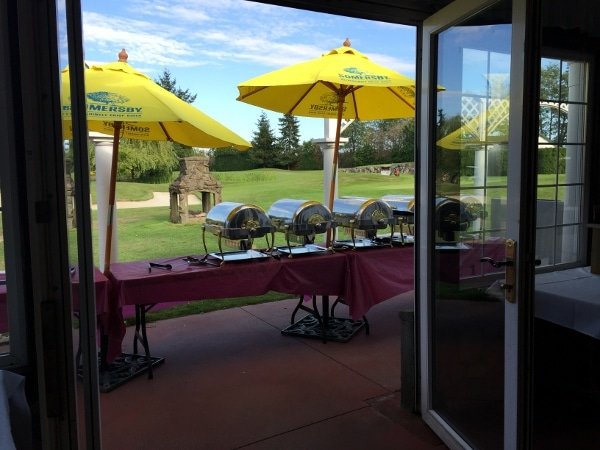 The tent seems to be a little on the cool side. This is great in the heat of the summer but the evening we can get a little chilly in the tent. It might be a good idea to bring a sweater for later in the evening if your event is going that long. There is no air conditioner but the staff can put up fans if you require.
I'm not sure how late events are allowed to go. The tent does not hold sound in well so your entertainment, DJ or band, would definitely be heard outside of the venue. Some venues do require that you turn down the sound after a certain time. This can dampen the party somewhat and is something that you would want to check on.
The staff are very helpful and friendly. This is an important consideration for your guests and yourself when hosting an event.
Country Meadows golf course would be worth checking out as a venue for holding your event. I give it a 4 out of 5 stars. Although parking is a bit limited and some areas of the venue could use a little repair and paint, the venue being close to Richmond so that guests would not have to travel very far from their accommodation and the pleasant staff makes it a nice choice for your event or celebration.