Roma Hall Venue Review
Roma Hall in Queensborough,  New Westminster has been around for years. This a nice family friendly venue that, contrary to a bit of a drab brick exterior, is actually quite nice inside with room from a small to medium sized event.
There is plenty of parking and the fact that it is free is a nice bonus for this DJ in Vancouver. I am not sure if there is overnight parking but there is a gate that does secure he parking lot after an event. There are also designated parking spots close to the entrance of the hall for disabled guests.
The entrance to the hall is level with no stairs. It is wide enough to back a van up the door  to unload anything you need to bring into the hall and for your vendors to roll equipment in on a cart. There are double opening doors for wide loads.  Along with the level entrance, the doors make it very convenient for any mobility challenged guests to access the hall.   
As you come in the front door you are greeted by a winding staircase to the second floor. I would assume the rooms up there could be used as change rooms if required by your event.
There is also a spacious coat check area for your guests to store their outer wear and possibly even their valuables if you had a coat check person there. This is something you don't see at too many venues anymore. I like it because it is to the side of the main traffic area and by not having the guests drape their coats over their chairs it helps to prevent obstacle for guests not to lose or trip over while visiting other table or making their way to the dance floor.
The main event room is directly across from the coat check area. It is a fair sized room and I believe it would be able to hold perhaps a maximum of two hundred guests. 
There is a stage for your DJ or entertainment. It is quite adequate for you DJ  and keeps the lighting and speakers off of the dance floor. This gives the dancers a clean area to boogie on without the fear of bumping into anything. As an after the fact item, the edge of the stage is a also a place where guests can put their drinks while dancing and not on the DJ table where they can spill into the equipment. However, the stage might be a little small if you have a band or you want your DJ to share the stage with another entertainer.
They do have a projector and screen to show your video or slide show. There was an adaptor for plugging in your computer or DVD player into the house projector and sound system. The cables were not well taken care of so I would suggest going down early and making sure that everything is working for you to plug your computer into their system. The house PA works well for speeches and possibly a slide show soundtrack but is not adequate for playing dance music.
The head table was highlighted by some up lighting. The lighting and decor can be varied to suit your celebration. I have at this venue a few times and there have been various decorating and lighting themes.
The full featured bar area is in an adjacent room and is nicely setup as well. The advantage here is that guests can order their beverages and not have to shout over loud music as the DJ is in the main room. It is also a mice are to mingle out of the way of the main room…especially if your guest list is not overly large.
The staff are friendly and helpful. The manager was especially conscientious checking to make sure this Vancouver DJ was completely packed up and had everything before locking the doors and turning off the lights.
The Roma Hall is a more than adequate venue for your wedding or celebration. With a varied menu from appetizers to a full sit down dinner, separate coat check and bar area as well as a relatively sound proof building so that you can party until 1 AM or so, the venue covers all the basics and a bit more for any event. I give this venue a 4 out of 5 stars.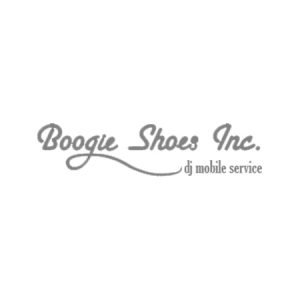 DJ Boogie Shoes
Known for being a fun, crowd sensitive, and knowledgeable disc jockey, DJ Gary entertains crowds as an exciting live performer internationally and as a professional Vancouver event DJ.