The Inn At The Quay is a nice medium quality hotel that has all the basics plus a little extra for your event. The entrance is clean and bright with cover for loading in your luggage and ample parking very close to the front entrance. There is underground parking as well. The hotel will provide a parking pass for your vendors. The level entrance also is convenient for any mobility challenged guests you may have and makes it easy for your vendors to load in their equipment as well. A quick tip concerning your vendor load in…the more difficult it is to get into a venue, the more a vendor will cost due to the extra time and effort associated load in and load out. 
The lobby is very bright with modern and colourful decor. The check-in area is quite spacious for a smaller hotel. This is a nice surprise, especially when you compare with hotels in downtown Vancouver where lobbies can be quite small. It makes moving around with luggage or equipment much easier.
The main event room is on the second floor. There is elevator access to all floors, including the underground parking, making it easy for guests and vendors to get to your event within the hotel. The room will hold 80 to 90 guests quite comfortably. Above 90 guests, a space challenge starts to present itself, especially if you are trying to keep room for a dance floor.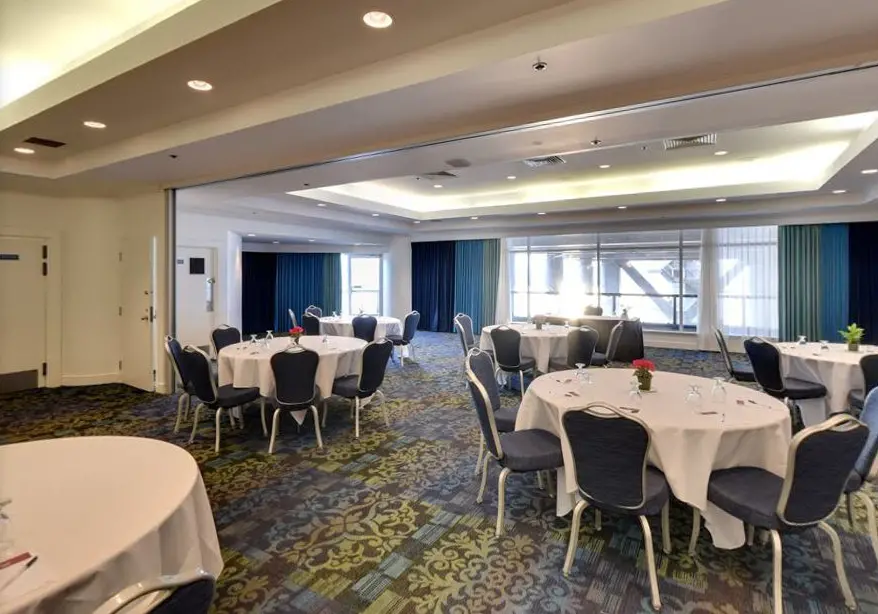 The room can be configured for your event. A wide range of events are hosted and dinner service can be provided as well. Weddings, anniversaries and corporate events take place regularly.
The rooms overlook the Fraser river and some great sunsets are to be had. The balcony is small however so not that many of your guests would be able to stand on it. Still, it is a nice feature.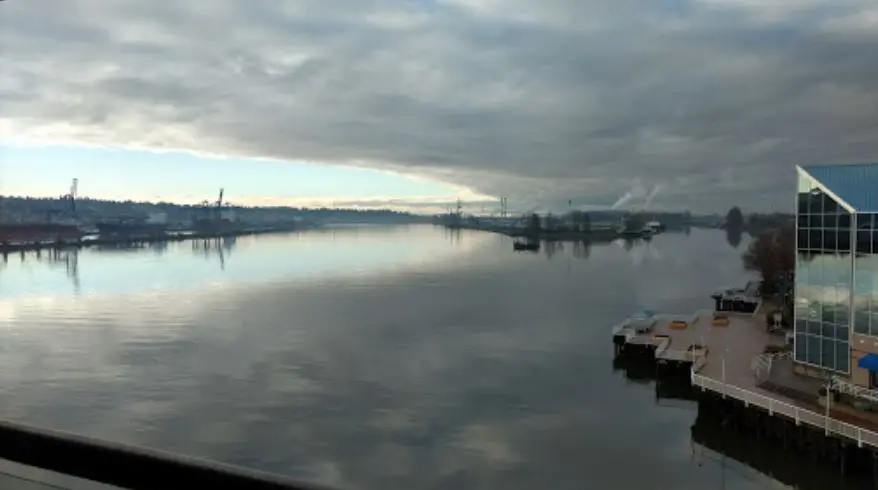 With the hotel located on the boardwalk by the water, there is lots to do for guests if you are hosting a wedding reception and there is time between the wedding ceremony and the start of the reception. By the way, they do offer an open-air wedding ceremony venue as well.
 Your guests can wander through the small mall area of the Quay, take a cruise on the river paddle wheeler or just stroll along the Fraser River via the boardwalk.
The Inn At The Quay has a lot going for it. With a nice location bright, clean premises and with a number of attractions for your guests, the hotel would be a nice choice for a small or medium-sized event. I give it 4.5 stars out of 5 as my only concern is perhaps the size of the event room. There is not a lot of wiggle room if you have a hundred guests and more show up last minute…especially if you want to have a dance floor.
 Read what I thought about: The Boathouse venue
Inn At The Quay
900 Quayside Drive, New Westminster, BC
V3M 6G1
604 520 1776
800 663 2001 Toll-free
innatwestminsterquay.com
info@innatthequay.com