Vancouver's Best Music Entertainment
Make your special moment something to remember with our karaoke, and wedding DJ services
Events, Parties, and Functions
Our party dj service, dance party dj service, is ideal for any special event, birthday party, or just a fun night out!
We have a huge database with all your favourite songs and music videos.
Karaoke Hosting
Whether the lime light beckons, or your guests just love to sing, a Karaoke party will keep them entertained! Karaoke is a great way to let out those singing star aspirations. No matter if you are a Diva, Rocker, Old Time Crooner, Country Star or anything in between, Boogie Shoes has got your spot light song warmed up and ready to go.
Weddings & Receptions
Hire a wedding DJ service that cares passionately about creating a fun ambiance that will make your wedding reception a cherished memory. DJ Boogie Shoes provides you and your guests with engaging, dance music entertainment. We've provided the entertainment for over 1,800 successful weddings and events.
Karaoke Rentals
Delivery and pickup is available between 10 AM & 4 PM. Please call to arrange drop off and/or pickup as available times may vary. Late night pickups are subject to an extra charge if it is available. Extra charge for delivery and/or pickup applies. Charges depend upon location of drop off and/ or pickup. Set up is an extra charge and is not included in delivery.
Why
DJ Boogie Shoes

 Is The Right DJ For Your Event!

We provide everything you need to make sure your event is memorable and full of excitement.

Looking for the right Vancouver DJ for your wedding or event? DJ Gary formed his own DJ company in 2007, based in Vancouver, BC.

Due to increasing requests from former and new clients looking for a flexible, fun, interactive, crowd sensitive, and knowledgeable Disc Jockey whom they enjoy working with, DJ Gary has continued to move forward, adding extra in-demand offerings to his services.

With thousands of successful weddings and events completed and tens of thousands of happy clients and guests, DJ Boogie Shoes can provide you with everything you need to successfully entertain your guests at your Greater Vancouver events.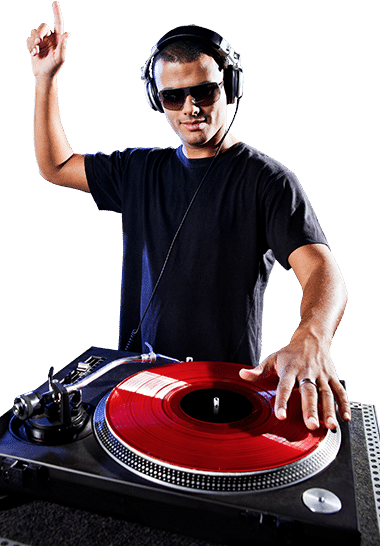 Over 12 Years of DJ Experience
With over 12 years of non-stop amazing events, DJ Gary is always willing to go that extra mile.
100,000+ DJ Song Playlist
DJ Boogie Shoes boasts one of the largest playlists in all of BC with over 100,000 songs to choose from, and many more being added every day!
Everything You Need For A Great Event
From Setup to Take-down to lightning, we've got you and your event covered. Once details are settled, you won't have to lift a finger… Unless you'd like to dance!
I'm Here To Make Your Night
Amazing

!

I'm not like your ordinary DJ. I make it my mission to transform your night into something you and your guests will remember forever.

Depending on your event, I can pull out all sorts of fun, goofy, and downright risqué characters to get everyone hooting and hollering!

Give me the opportunity to bring the fun-factor to your event!

(604) 816-7727
Contact DJ Boogie Shoes Today!
Call or fill out the form below to learn more about
our Vancouver Disc Jockey & Karaoke Services!
Entertainment is one of the most important parts of any wedding. It can make or break your event. Here are some of the most commonly asked questions to help you make the best decision on your big day.
Is it better to have a band or DJ at a wedding?
If you're looking for an energy-filled atmosphere at your wedding, consider hiring a DJ instead of a band. A talented DJ is an excellent choice because they are much less expensive than a band, require less space, and can play a variety of songs to keep all your guests entertained.
Most DJs have a great presence and energy to turn your reception into a real party. However, some people prefer to have a band during cocktail hour and a DJ for the dancing session.
Whichever the choice, ensure that you have a list of "must-play" and "must not play" songs depending on your taste and that of your guests. The must playlist should be full of classics and recent hits to ensure that every guest stays entertained no matter their age.
What is the average price for a DJ for a wedding?
The national average cost of hiring a wedding DJ is $1000. But this really depends on several factors such as:
DJ experience and their level of expertise
The number of hours the DJ will be playing
Your wedding's location
The size and setting of your venue
Time of the year
Travel time
Other add-on services
How much should a DJ charge for 4 hours?
You can pay anywhere from $250 to $2500 (and beyond) for a wedding DJ in Vancouver, depending on the quality of service. Wedding DJ services fall into three categories: amateur, professional & premium.
An amateur DJ might not have any significant experience with weddings and can set you back up to $900. While you can probably save a few hundred bucks with a budget DJ, their professionalism and quality of service are usually lacking.
Professional DJs can cost between $900-$1600 and come with other add on services such as MC services and lighting. But if you're looking for top-notch services, go for a premium DJ. Premium DJs cost from $1600 and beyond, and come fully equipped from head-to-toe with top of the line equipment to create a unique, lasting experience. They have high-end up-lighting, sound, and other add-ons that can elevate your experience.
How long do you need a wedding DJ?
It depends if you'll need the DJ for just your reception or from the ceremony to the reception. If the DJ is playing at the ceremony and the reception, then we are looking at an average DJ set time of around 5-7 hours. That is the length of most wedding ceremonies.
However, if you're looking to hire a DJ for the reception only, then a 2-4 hour DJ set is just enough. Remember, since many DJs' fees are hourly, the length of the DJ set will have an impact on the total cost of hiring the wedding DJ services. So, be sure to discuss the number of hours they'll be playing and if they have additional overtime costs.
How long should a DJ play at a wedding?
The most common DJ set length is 4-5 hours, excluding equipment setup and takedown. But, of course, nothing's written in stone. You could have a DJ set as short as 2 hours or even beyond 7 hours, depending on your needs. Most DJ rates are hourly, so you should plan a timeline that fits your budget and needs.
If you anticipate having the party rocking through the night, make sure to agree upon a miscellaneous overtime cost in the DJ contract to take care of any eventualities.
What is a good budget for a wedding?
There is no silver bullet answer to this question. The national average of a wedding in Canada is roughly $29,450. But this can vary.
Whatever your budget, a successful wedding really boils down to proper planning, great food, and an amazing after party. In light of this, you'll want to focus your budgeting on things that matter most to you and your partner.
Consider a more experienced DJ or even a more prestigious catering company to take those important moments of your wedding night to the next level.
While some couples will opt to have a grandiose ceremony at a luxurious ballroom, others choose the more frugal approach with budget-friendly alternatives. Either way, if you have the ones you love, and great entertainment, you'll always have a fantastic wedding.
How can I play my own music at my wedding?
The best way to play your own music at your wedding is by connecting your iPhone/iPod playlist to the PA system, or stereo system. However, this approach is generally discouraged since the first dance and reception are incredibly important to get right.
DJs are perhaps the most important part of any wedding. They set the mood of your reception, the atmosphere of your after-party, and the energy of the dancefloor on your wedding night.
Without a DeeJay to rile up the crowd, you could be looking at a deserted dancefloor — Cue the tumbleweed. It pays to have a professional entertainer encourage wedding guests to bust a move by getting everyone laughing, and headbanging to their favourite jams. A great DJ adjusts to your guests in a way that a pre-set iPod playlist simply can't.
Their work goes far beyond hitting the play button to entertain your guests for a few hours. They spend a lot of time before your special day organizing the best fit schedule, preparing a song list that reflects your style, and then showing up at your event fully prepared to fill the dance floor with joyous and heart-felt memories.
How important is a DJ at a wedding?
DJs are perhaps the most important part of any wedding. They set the mood, the look, and action on your wedding day. A DJ responds to the needs of your guests in a way that pre-set playlist or iPod just can't.
Their work goes beyond hitting the play button to entertain your guests for a few hours. They have to spend a lot of time before your special day organizing the best fit schedule, preparing a song list that reflects your style, and then showing up at your event fully prepared to fill the dance floor with joyous and heart-felt memories.
Do you need a DJ for your wedding?
Absolutely! Guests usually remember the food and the entertainment more than anything at a wedding. So if your food or music is sub-par, then your event can flop big-time. Imagine a medieval wedding without a court jester — Boring!
If you hire an experienced wedding DJ, they can help you create moments guests will talk about for years.
DJs make your wedding feel like a party. They can invigorate the dance floor and keep your friends entertained throughout the evening. Besides having a huge collection of traditional and contemporary songs, most reliable DJ services have a bunch of other add-ons such as PA systems and lighting to help create an eye-catching backdrop.
In short, entertainers can turn your event from average to amazing by keeping guests entertained throughout your wedding's festivities. Consider budgeting for a wedding DJ when planning your reception, you won't regret it!