Sandman Hotel Vancouver City Center Venue Review
The Sandman Hotel Vancouver City Center has been around for quite a few years and although it is starting to show its' age, it is a very popular venue for many types of events.
One of the great things about the hotel is that it is only a few minute's walk from some of the great sporting venues of Rogers Arena and BC Place. Historic Gastown is close by so this is a great addition if there is a long break between your function or wedding. I believe ii is about a nine-minute walk there and a great place to have your guests spend their downtime. I would imagine if you were having your event on the same day as a major sports event was taking place at the arena or Canada Place, the hotel, parking and area would be very busy.
Parking to the hotel or events is quite convenient and can be accessed off of Beatty Street or from the turn into the Sandman driveway. After 6 PM parking is $2.00 per hour. However getting into the hotel from the parking lot is not possible unless you have a key for the door. You get an access key either by being a registered guest or perhaps if you are holding an event there.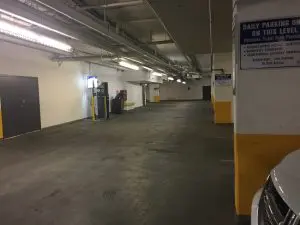 For dropping off guests, the front entrance does have a covered area. It is flat as well so mobility challenged guests can easily enter the hotel if a wheelchair is required. The entrance driveway is a bit narrow for large cars though so there may be a lineup of cars depending upon the time of day.
The lobby is spacious if somewhat dated. The staff at the front desk is friendly and helpful. However, when you turn the corner to go to the elevator to get to the upper levels, you are met with a narrow corridor. This is where you might have a little trouble getting a wheelchair down if someone is coming from the opposite direction. The elevators are small but can fit a wheelchair and a few people as well. As a DJ, it was a little difficult getting equipment in the elevators because of their size.
Coming out of the elevator to the second floor is a little narrow as well. This is ok if guests are able to walk but if you have a wheelchair or cart with equipment, it can be a bit of a challenge.
The restaurant is on this level and although some events take place here, most events happen in the ballroom which is behind the staircase. The ballroom is the largest room they have and comes with the usual amenities, including a microphone for your speeches, projector and screen.
The smaller rooms, studio 1 & 2, are located at the top of the stairs above the restaurant. There is an elevator to this level as well. Studio rooms 1 & 2 are quite a bit smaller than the ballroom. I believe we had about 25 guests and you would need both rooms, especially if you are having a sit-down dinner or even stand up appetizers. There is a bit of a barrier between both rooms as they can be partitioned off from each other. There are not many wall outlets in the rooms but the rooms are air-conditioned.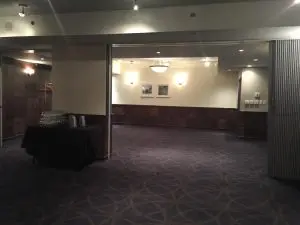 There is a projection screen and I did notice an in-ceiling speaker that would be ok for speeches. There was no projector though and I did not see a plugin for a microphone for the in-ceiling speaker. The rooms are quite small so probably a microphone would not be needed in any case.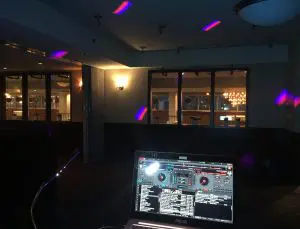 Catering is fully capable of delivering a full meal event or appetizers. The catering staff were friendly and helpful with whatever is needed for your guests and vendors. They are also quite efficient.
The Sandman Hotel Vancouver City Center is a conveniently located option for your event or wedding. It has all of the amenities required for most events and tends to lean towards smaller sized events with the size of their events rooms. Although by combining the restaurant area with the ballroom would give you a much larger venue. I did find it a bit dark in décor and the hotel is a bit dated and does have an older look about it. The hallways and elevators are a bit small and narrow for getting equipment in and out. If you are combing your event with a sports event in mind, the hotels would be an excellent choice but if not, it might be a hindrance if your event took place while a major sports event was also taking place. I give the Sandman Hotel Vancouver City Center 3.75 out of 5 stars.
Take a look at my venue review of Vancouver Marriott Pinnacle Downtown Hotel.