The Delbrook Community Center is a nice community venue to hold a family, club, or community event. With its easy access to the community, ample free parking and clean modern facilities, it has everything you need to hold a small or medium-sized event.
Getting to the venue is easy and once there, there is plenty of underground parking. This is particularly a nice feature when there is wet or snowy weather. The covered underground parking makes for dry and easy access year round.
Loading equipment for your vendors or supplies for your party is very easy from the underground parking. There are conveniently placed elevators that will take you up to the floors you require. This also great for the guests that her wheelchair-bound.
When you arrive at the floor to your event room, you will find the hallways wide clean. This makes it easier to roll your equipment into the rooms on a cart and convenient even if you have a lot of guests coming down the hallway to enter into your event room.
The event rooms are bright and well kept. There are nice floor-to-ceiling windows that allow a lot of light in but also have blinds that you can pull down in case you want to make the room darker. The event I provided services for had about 200 guests and everyone fit into the room quite comfortably. They did have to take down tables for dancing though.  At the back of the room there is also a kitchen area where you can bring your own food or have a caterer prepare the food for your event. There are friendly staff there as well that can help you with tables, etc.
The rooms also have access to AV equipment. There is an in ceiling projector and screen as well. The wall behind the screen is mirrored. This tends to make the room seem larger. The plug-in for your computer to run your AV presentation is a bit awkward. It is on the same wall as the projection screen but about 10 feet down from the projection screen, so it is a bit hard for the operator of the computer to see the projection screen from that spot. The operator could see screen if they were to move the computer out to the center of the room but in this case they would be in among the guests. This may or may not work for you.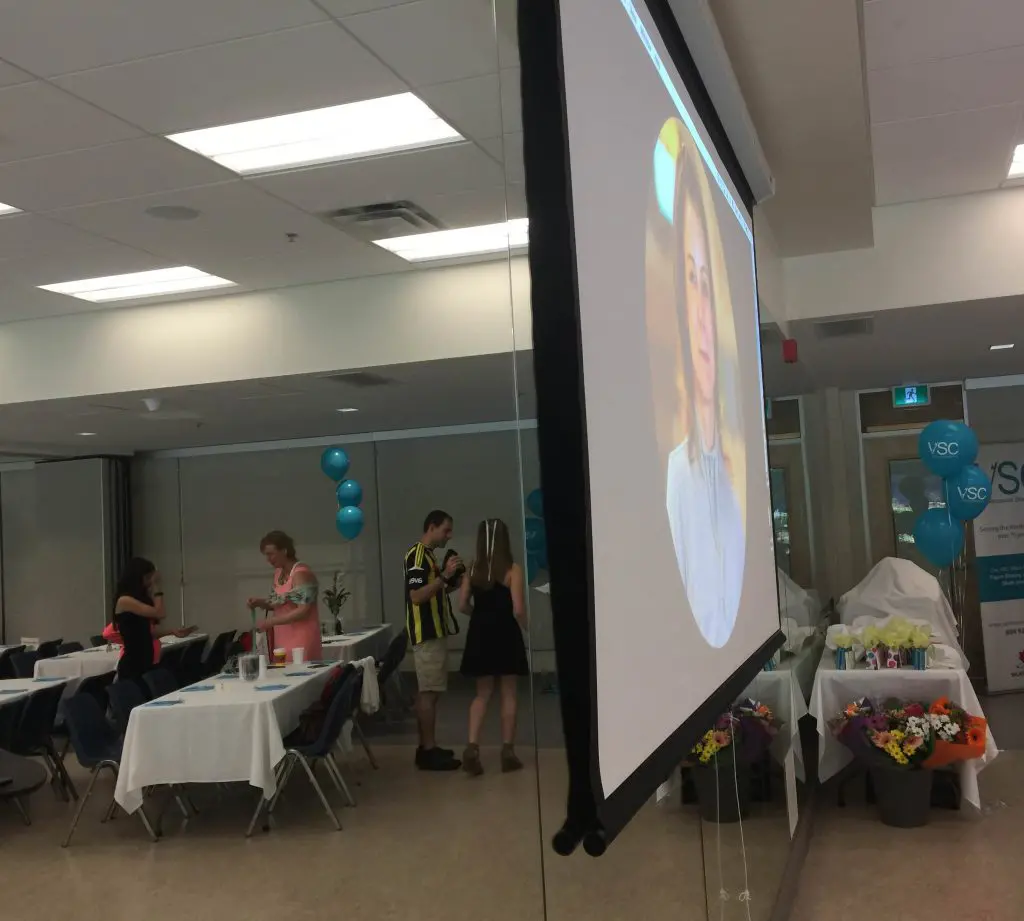 One neat thing about holding an event in the community center like this, is that they have full sports facilities that would give your guests something to do before or after an event… depending upon hours of course. You could have a pool party, workout, squash game or shoot hoops in the gym.
 Facilities at the Delbrook Community Center are quite adequate for non formal events such as family get together,  team party, etc. and likely offer a price conscious alternative to a hotel venue. As a DJ, I give this venue  3.5 out of 5 stars due to ease of access, clean bright rooms and things to do.