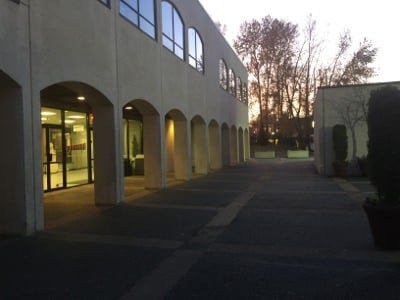 Trattoria Hall Venue Review
Trattoria Hall, at the Italian Cultural Center is one of the venues at the center that is smaller but has everything you need for a small to medium sized event. As a matter of fact, it was this venue that Biff Naked used when I provided DJ service for her wedding a few years ago. Beth & Steve wedding
The Italian Cultural Center has plenty of free parking, even when there are multiple functions going on in the main hall. This always makes things easier for guests and your vendors as well as on yourself. It is one less thing to do as you don't have to spend time getting parking passes for anyone.
The entrance to Trattoria Hall is a bit of a walk from the large parking lot. not so bad in nice weather but you definitely would need an umbrella if the weather is wet. However, there are no stairs to climb and the level surface to the venue and entrance make it very easy for any mobility challenged guests and wheelchairs to access. Also easy for your Vancouver DJ to load their equipment in on a cart. any time you have a venue that has free parking and easy access for your vendors, they are able to keep pricing lower than of they have to pay for parking or load equipment up stairs. Inside the venue, there is also easy level access to the washrooms.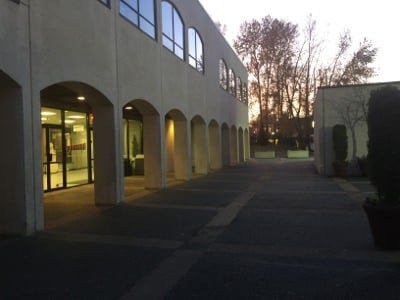 At the entrance to the venue there was an interesting display. I am not sure what the significance was but it was quite interesting and a great conversation starter for your guests.
Just inside the entrance and near to the bar is where the buffet dinner normally takes place. I think this works well as the DJ is at the other end of the room and the music will not be prominent when you are trying the be heard while ordering a drink for the bar or speaking with your friends, family or colleagues at the buffet line.
The room does have a projector and screen for showing your video presentation. I liked the clean, organized that they had for plugging your computer to video equipment into that gave you easy access to their video setup as well. They had all of the standard connections VGA, HDMI, RCA and audio plug ins to use their in ceiling speakers. They also have a microphone or your speeches. As usual, this is great for speeches or the audio track of your video or slide presentation. The in ceiling speakers would not work for louder full sounding dance music.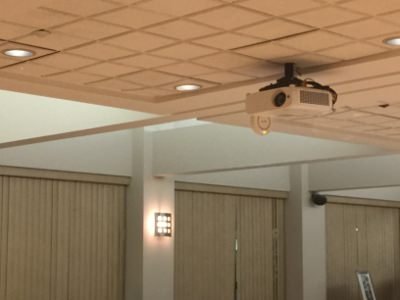 Although there is no coat room, there is a coat rack to the right of the entrance. The coat rack is hidden around the corner and so is not in plain view. it is not secure to leave valuables but is a convenient spot for guests to leave their coats so as not to have them draped over the back of their chair. 
The staff are well trained and go about serving the guests efficiently. They are cordial but not friendly. The event coordinator was not concerned about the music setup or convenience as she piled up a rug and pushed the podium on the side of the DJ table where guests would come to write down their music requests for the dancing portion of the evening. This could have resulted in a guest tripping over the piled up carpet, so this DJ in Vancouver was bit concerned about that.
 Trattoria Hall, at the Italian Cultural Center is an adequate venue and has the advantage of free parking and easy access for your wheel chair bound and older guests. They have all the bases covered for a small or medium sized event and easy, neat plug ins for your video presentation. However, I found the staff not very friendly. I give this venue 4 out of 5 stars.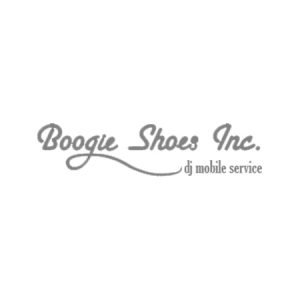 DJ Boogie Shoes
Known for being a fun, crowd sensitive, and knowledgeable disc jockey, DJ Gary entertains crowds as an exciting live performer internationally and as a professional Vancouver event DJ.