The Vancouver Lookout Venue Review
The Vancouver Lookout not only has a unique shape that adds a different ambiance to your event but it also has an awesome view for your guests to enjoy. A 360 degree view of the city is one of the best ways to get an overall appreciation of the scope of what Vancouver is about.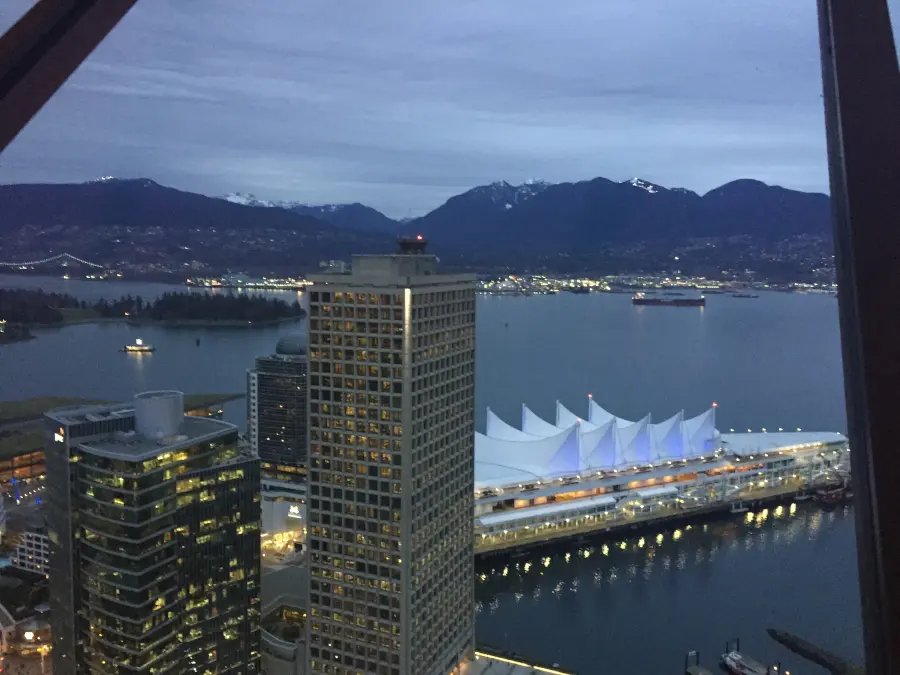 Starting at the parking for the venue, it is a bit easy to miss as it is right at the corner of Seymour and Cordova at the 500 Harbor Center underground parking. There is a bus stop right at the entrance so when a bus is there, it can make it even more challenging to find. Turn right off of Cordova into the underground parking and keep going straight. Don't turn left into the loading dock.
Getting from the parking lot to the lobby is quite easy and there is access for your mobility challenged guests. The lookout deck also has ramps all the way around so all guests can enjoy the view.
The lookout venue is quite spacious and could accommodate a large group of guests. The thing to note about the venue being round is that your music would not carry all the way around the venue. You would either have to find a way to plug into the house system, which would be ok for background music but not dance music, or have your DJ set up extra speakers around the venue. This last option could get expensive.
I would also be clear on just where you want your music provider to set up before they arrive for your occasion. The staff was not aware of where the client wanted the DJ setup when I arrived. Once setup is done and lighting, cables and tables are set, it can be difficult to move equipment without taking some of it down and setting up again. This can cause your music to start late.
There seems to be quite a few wall outlets so you can plug in extra items. Be sure to leave an outlet free close to your DJ setup so that your entertainment can plug in as well.
The venue does not have a microphone for speeches or a projector and screen for your video or slide show presentations.  I did notice a few TVs around the venue so you might be able to plug into those. Otherwise, you might need to bring your own projector and screen or have your DJ provide those items.
Load in for your vendors is a bit cumbersome. They must load in from the loading dock, call up and have one of the staff come down and let them in, bring the equipment up to the lookout area and go back down to park  their vehicle. All this could take quite a bit of time so make sure your vendors plan ahead and arrive early enough to allow time for this. It took this DJ about 30 minutes to get in and I did not have to come back down to park my van. A plus is that they do give vendors their own pass key so that if they do have to come back down to the loading dock, they can get in and out on their own. However, the vendor can't get back into the loading dock area after 6 PM if they drive out for any reason.
The staff is helpful and friendly but may be a little short staffed. When I was ready to setup 45 minutes prior to the event, the DJ tables were not ready and guest tables still being setup and dressed. They did manage to have things ready on time and once the event got going everything ran smoothly.
The Vancouver lookout has got some nice perks for the location of your next event. Beautiful views, a downtown location close to Gastown  and the skytrain hub are a few of them. The round shape of the the venue makes it hard to get music all through the venue and the time it takes to get your vendors in concern me enough t o give the Vancouver Look out a 4 out of 5 stars.