The Fairmont Hotel Vancouver combines old school charm with all the amenities of an affluent hotel. It provides many of the features brides and grooms look for in a venue for their wedding and /or reception and would also work well for any upscale event such as a corporate Christmas party.
 The British room is a very large ballroom. Half of the ballroom can easily accommodate three hundred guest and probably could seat a hundred more. I would imagine the whole ballroom opened up would be quite substantial in terms of space for very large events.
There are a set of stairs down into the room which may be an issue if have any mobility challenged guests. It might be a concern for your vendors also. Especially if they have  large heavy items to load in. I am not sure if the hotel could provide a portable ramp. This might be possible as there was a portable ramp out of the service elevator up to main foyer for vendors loading equipment into the hallway.
A in house ceiling speaker system for your speeches is availalbe but I would recommend that you have your DJ provide equipment more suitable for music.
While the British room is suitable for a wedding ceremony, the Pacific room is ideal for the reception. 
This room, can easily seat three hundred guests. The room has a very high ceiling and at the wedding event where I provided audio, the videographer actually flew a drone to get a bird's  eye view of the happy couple's first dance,
 Another nice feature of the Pacific room is the stage. The bride actually used it to sing a special song for her husband. This worked very well as even guests at the back of the room could see her. It is also a great area for your entertainment …whether that be a DJ and / or Karaoke, string ensemble, band, etc.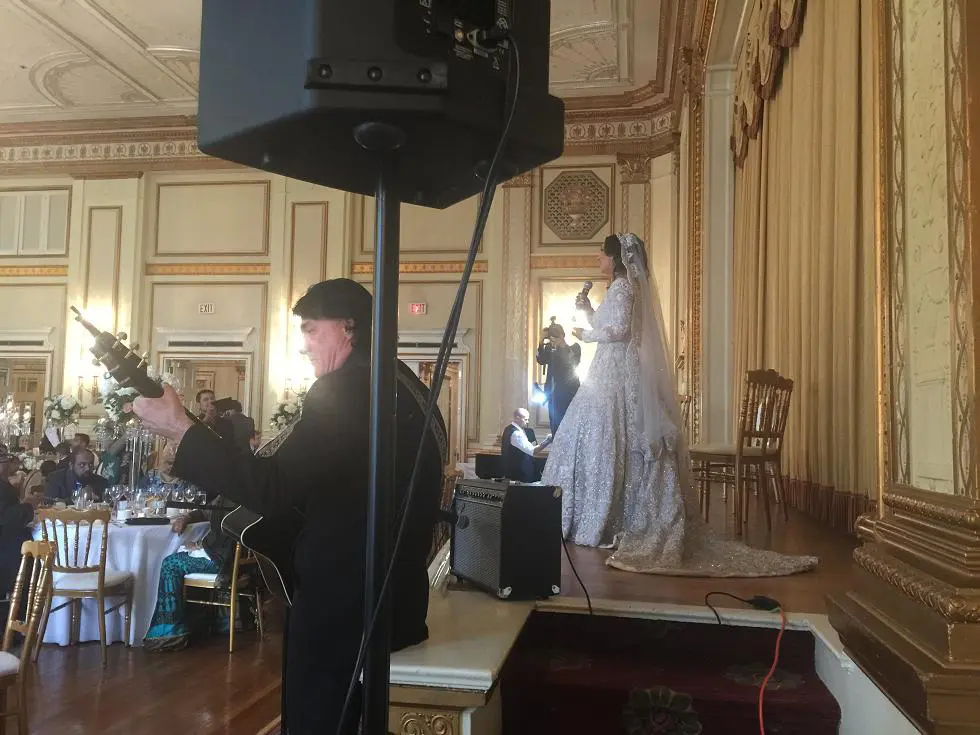 There is plenty of parking for the hotel but can be a bit expensive for anyone not given a parking pass. It is about $40 for vendors to park from 9 Am to 5 PM on Saturdays in the public parking lot by the hotel.
 Another thing to be aware of for your vendors is the load in procedure. Although they do have a ramp for vendors in the loading bay, the service elevator is in constant use and it may take a vendor extra time to load in. It can take about 40 minutes to load in, park a vehicle and then get back up to the British room, so make sure your vendors give themselves a little extra time.
 The Fairmont Hotel Vancouver is a very nice venue for any upscale event. Classy, sophisticated with lots of history and friendly, helpful staff. If you're planning an upscale  event, this is one of the nicest hotels in the downtown core for your function.
 I give the Fairmont Hotel Vancouver 4.5 stars
 The Hotel Vancouver 900 West Georgia St.,
Vancouver, BC V6C 2W6
Phone:(604) 684-3131  
Event planner at the time of this review: Christine Han