Quality Inn Abbotsford
The Quality Inn Abbotsford as about an hour and a half drive from downtown Vancouver, and about an hour from New West or Burnaby. It is a full fledged hotel and what I like about it, is that there is a separate are form the hotel where events are held. This avoids the noise conflict that can occur in hotels hosting events.
The venue is just off the Trans Canada Highway 1 so it is easy to find. You can see it from the highway
There is plenty of free parking and the load in area for your guests and vendors is covered. However, the driveway for load in is only two lanes wide so you may block traffic. The entrance way into the venue is flat and there is an elevator to the second floor where the event rooms are located. Everything is wheelchair accessible for any mobility challenged guests
There are a number of rooms for events with the Grand Ballroom being the largest. It holds roughly around 200 guests. It also has a nice sized dance floor. A stage can be added for karaoke or performers. As a DJ, I experience many venues only allow a smaller space than what was allowed here. This venue gave the DJ/Karaoke set up two tables adjacent to the stage. This allowed the DJ to be in close proximity to the karaoke slips as well as the dance music request sheet. The DJ could answer questions easily as the speakers were away from the DJ station and there was lots of room for guests to come up and write requests. I did not notice a projection screen or in ceiling projector for any video or slide shows you might want to show. They do have a microphone and podium for your speeches…although it is not a wireless microphone.  They still might have a wireless microphone and projector and screen available…I just never saw them.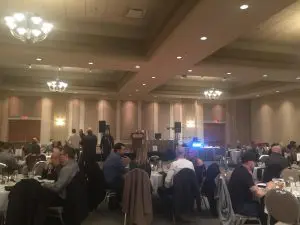 The buffet meal is set up in the hallway close to the bar. There seemed to be quite a bit of room and you can even put your photo booth out there as they did here.
I found the bathrooms to be a bit far away from the main ballroom. They were clearly marked but it was a bit of a walk to reach them. As well, the coat rack was down at this end. If I had an expensive coat, I probably would have not wanted it to be down here far away from the room I was in. It is portable though so I am sure you could request to have it moved closer.
The staff were very help full and friendly. They placed a table on stage when requested and brought the vendors cutlery and refreshments without even being asked. Most staff are good with guests but when they treat the vendors well, it shows and extra level of care and is a reflection of good management.
The Quality Inn Abbotsford is a comfortable venue to hold any event. The staff make you feel welcome and the fact that the event rooms are situated apart from the hotel rooms is a great plus if you want to party later and not worry about the music level. It is a bit of a drive from Vancouver so unless you have family from the Fraser valley or a reason that you might want hold an event there, a group from Vancouver might want to choose a closer venue. Check out the venue reviews on my website to see some options and a run down on them. However, If you are in the Abbotsford area, it is a good venue to consider. I give the Quality Inn Abbotsford a  4 out of 5 stars.